I have had my heart set on getting a Mastiff since I met my first Mastiff, Sarge, at a dog show in Reno, Nevada over 15 years ago. After finding a reputable breeder (Divine Mastiffs), I patiently waited for the right litter and the perfect puppy. Newton was born on December 16, 2004. Finding the right dog and a a reputable breeder (or looking into rescue) is something that I feel very strongly about. For this reason, I felt it important to include a blog entry about the subject.


Divine RR Lucky Lounge Lizard

INTL/AM CH Ridgerunner Gul Lemek, CGC

CH Kwests Boaz

CH Groppetti's Lord Henry of MNRB

Southports Jasmine

Ridgerunner Seven of Nine

CH Cactus Ridgerunner The Borg

Danaher's Mary Kate

INTL/AM CH Dynamite Ridgrunner Cont'l Devine, CGC,TDI

CH Ridgerunner Last Frontier

CH Cactus Ridgerunner The Borg

CH Ridgerunner Quest for Gold

CH Dynamite's Bit O'Honey

CH Groppetti's Lord Henry of MNRB

GR Traverse Phaedra Kallisto
Pedigree generated by PedigreeQuery.com
Here is a picture of Newton's (aka "Purple's") litter on the day they were born. I must admit, "Purple" was one of my favorites from the beginning.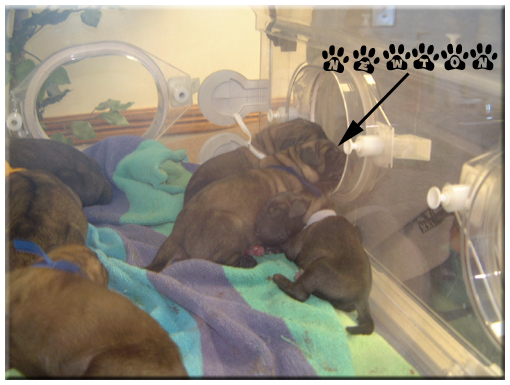 Mary and Chris of Divine Mastiffs let me visit the puppies each week. Puppy breath is the best! I think that "Purple" chose me as much as I chose him. On February 12, 2005, I brought Newton home. The first day, Newton missed his littermates tremendously. I was lucky that Mary gave me a blanket that Newton's mom, Kailie, had slept on. Newton spent that first day sleeping on the blanket.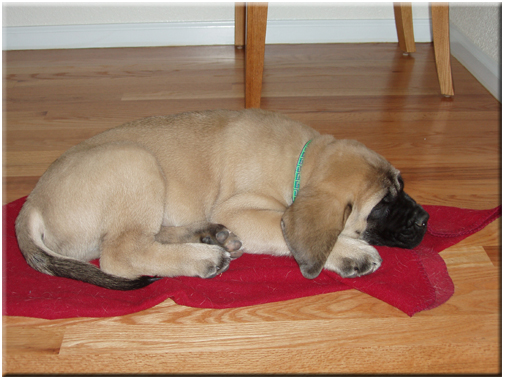 The next day he was all about exploring his new surroundings and didn't miss his littermates so much. When Newton was 10 weeks old, he started doggie daycare at For the Love of Dog. He had a blast playing with all the other dogs.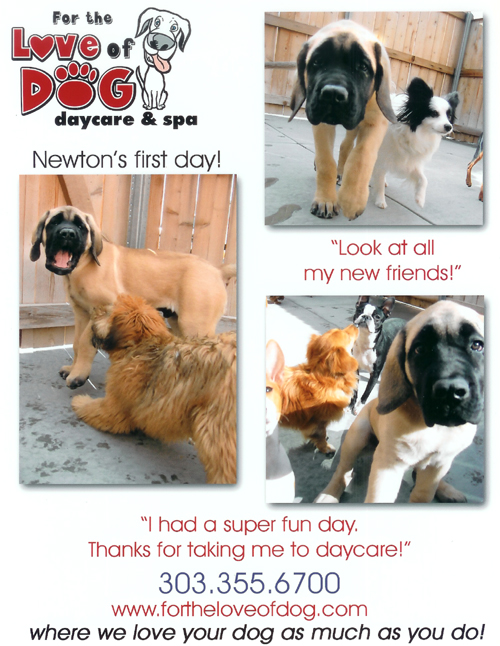 He also went to Doggie Pause where he got to hang out with his sister, Vegas. Although he always seems to be the dog who is hanging out with the humans. Newton went to doggie daycare until he was a year old. While he no longer got to go to daycare, his pet sitter, Stephanie, would come by for daily walks (weather permitting).
When I originally started my search for a puppy, I was just looking for a pet. After going to several dog shows, I thought that I would give showing a try. In July 2005, Newton was in his first dog show in Eagle, Colorado. He was only 6 months old and had a great time.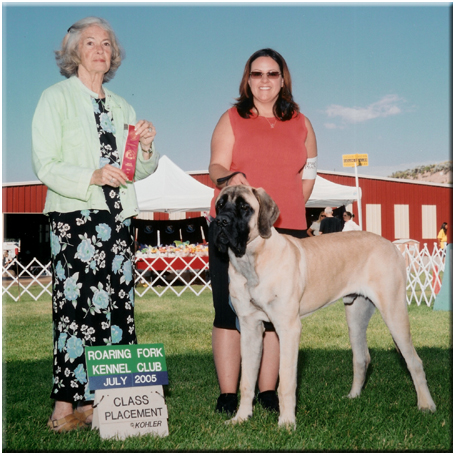 We only went to one other show after the Eagle show. Newton was growing like a weed and I wanted to focus on having a good canine citizen. So instead of showing (I didn't enjoy it and didn't that you could hire somebody to show your dog), we would meet with Pat Blocker of Peaceful Paws Dog Training each week at Wash Park. Years later, Newton even got honorable mention in Pat's newsletter.

In January 2005, Newton and I took a roadtrip from Denver, Colorado to Reno, Nevada. I thought that Newton was going to sleep the whole way. I was wrong! Newton stayed awake the whole time. He made a great co-pilot.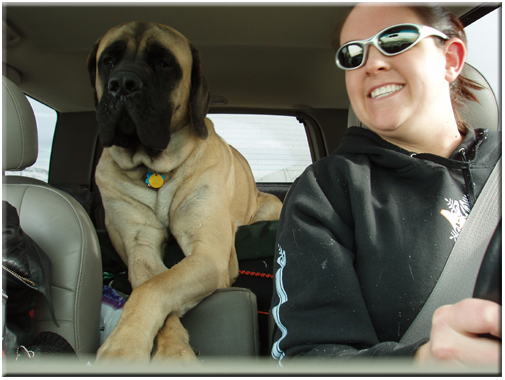 Once we got to Reno, Newton had a great time playing with his new friend, Kahlua. Kahlua is my sister, Jenny, and her roommate's dog.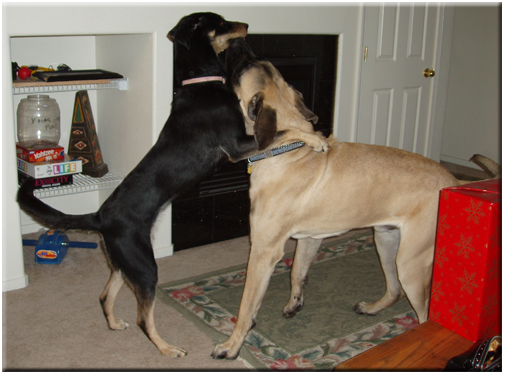 It was my sister's 21st birthday on January 3rd, so we had to have a big birthday blowout!!! Of course, Newton had to be part of the festivities. Although he didn't get any of the ice cream cake...too bad for him :-(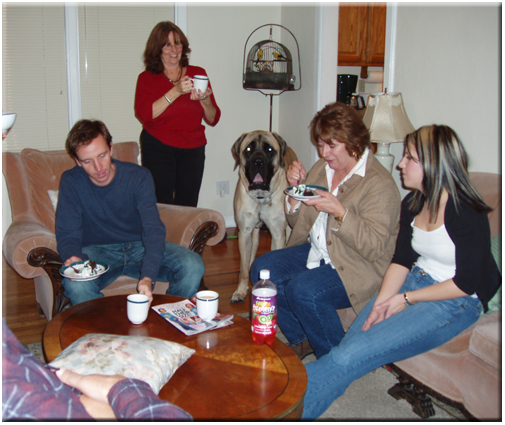 In addition to long walks around the neighborhood, trips in the car, and yummy mix-ins in his food, Newton enjoys going to the dog park. We usually go to Chatfield and Cherry Creek dog parks. He likes to go with his friends, so we usually go with Chloe. Chloe is a 7 year old Mastiff that my friend, Laura, got from FORM (Friends of Rescued Mastiffs).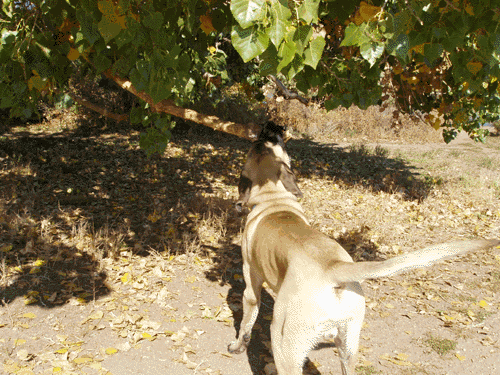 I also discovered that one of Newton's favorite things to do is go camping. He even sleeps in the tent with me. He enjoys all of the new smells and little critters that he can chase after. You can tell that he is having the time of his life.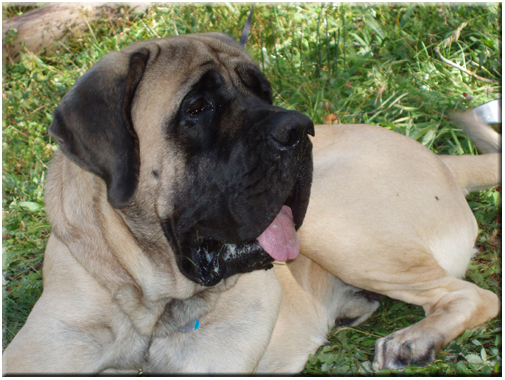 Newton comes from slow growing lines. He is very tall and slender. Mary and I decided that if Newton hadn't filled out a bit (to continue his show career) by the time he was 3 years old that I could have him neutered. On May 19, 2008, Newton was neutered. Here is a picture of Newton recovering post-op. Think he is spoiled?!?!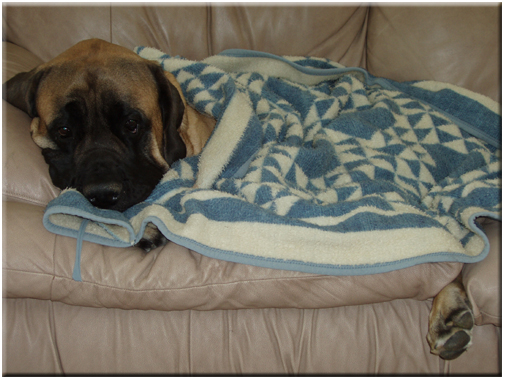 In addition to getting Newton neutered, I had his teeth cleaned and did health testing of his hips and elbows. Even though both his parents and most of the dogs in his pedigree have had their health testing done, I did the health testing on Newton for my own piece of mind. I also did it for Divine Mastiffs' breeding program. Data about their lines will help breeders in the decisions they make for future breedings. Newton's hips came back excellent and his elbows normal. Woo hoo, bragging rights for Newton!

On August 1, 2008, Newton started to limp. At the time, I didn't think much of it. He has hurt himself before and the limping only lasts a day or two. Over the weekend and the course of the next week, the limp would come and go and it would switch from side to side and front to back. I asked Mary and several of my friends who have Mastiffs what they thought. Although he is 3.5 years old, many thought it sounded like panosteitis or "pano". Towards the end of the week, it started to get worse so I made an appointment to take him in. Thus, our journey began.

On September 11, 2008, Newton was formally diagnosed with bone cancer. Visit Newton's blog for full details of our journey. Unfortunately, cancer is the most common natural cause of death in dogs in the United States. Close to 50% of dogs will develop cancer if they live ten years or longer. The cause of cancer in pet animals, just like in people, is largely unknown. There are certain breeds that tend to get certain types of cancers more often than others, such as large breed dogs.
©2014 Emily Drew. All Rights Reserved. Reproduction without permission is prohibited.
Questions, suggestions, or concerns: contact us.