Sunday, August 30, 2009, ( 12 views ) -
Treatment
- Posted by Emily
In the middle of the night, Newton started barking and barking like a mad man and I couldn't figure out why. So, I get out of bed and walk downstairs. Newton is jumping around, barking, and then picks something up. At that moment, I realized what it was and let out a huge scream.
Newton decided to make himself a new friend...if you can call it that.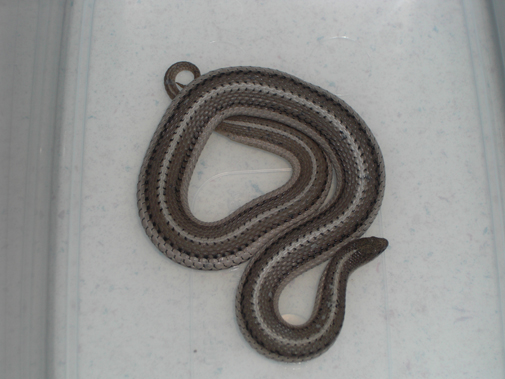 Of course, I instantly think that it is a baby rattlesnake and start to freak out. I make Newton go to his crate and fetch my boyfriend, Scott. He catches the snake in a small container. I was happy to see that it wasn't a rattlesnake, but I wasn't sure what type of snake it was. Gotta love google. Thanks heavens, it was a harmless snake. of course, since I spent a good chunk of the night looking at snake pictures, I ended up having snake-related nightmares.
<<
<Back
| 4 | 5 | 6 | 7 | 8 | 9 | 10 | 11 | 12 | 13 |
Next>
>>